Sup guys!
Currently, we're learning about angles and how to solve for x and proofs so I thought why not just make a post about this? No one reads these, but it might be of help t anyone who sees this (A.K.A. only me).
So let's get started.
OKAY, YOU GUYS: I'M JUST A FOURTEEN YEAR OLD THAT HEARS THIS IN MATH. I'M ALSO REALY BAD AT EXPLAINING AND MATH DEFINITELY ISN'T VERY EASY TO EXPLAIN TO ME. I JUST KNOW IT.
Enter at your own risk.
Good-to-know vocab
Congruent
Congruent basically means equal in shape, length, whatever. Google says "equal in form."

Take the image above. △ABC is exactly the same as △DEF. What this means is that if you were to get some patty paper and trace △ABC on it and then put the patty paper on top of △DEF, boom, △ABC is on top of △DEF. All the lines and vertices are the same. Both triangles are congruent.
Because mathematicians are lazier than us Tumblr-driven humans (and potatoes), there's a symbol for the word congruent. It's literally just an equal sign with a little squiggly line on top. It's the same squiggly line that means "about."
Super easy to remember I guess.
Right?
Anyways, congruent is used is stuff in geometry. Angle measures, side lengths, you name it kiddo; they've got it covered.
You could say…
-angle A is congruent to angle B
-line GH is congruent to line AC
Do you guys catch my drift?
I really wish I'd be able to record our math teacher explaining this because she's the bomb at that and ultimately makes everything easier.
But you got me here so too bad.
The struggle is real.
Supplementary
Aye, this is a pretty easy one. How many degrees is a circle? 360. If you cut a circle in half, what would you get? A half circle. There's a straight line. A line is 180 degrees because of this.
Supplementary angles are two angles that add up to 180 degrees.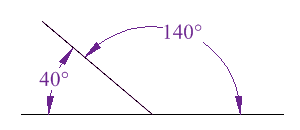 When placed next to each other, they make a perfect line like so.
There's a video below. I didn't explain it well so just go and watch it.
Supplementary just means two angles that add up to 180. Boom. There you go.
Complementary
Complementary angles mean basically what supplementary angles do except for this time, it's 90 degrees.
An easy way I know the difference of complementary and supplementary is that you take supplements to give some extra vitamins or provide vitamins that you can't get. EIther way, you're adding more to what you have. 180 is larger than 90, so supplementary must be larger than what complementary angles must be.
I like to think of complementary angles as complementing each other which is the "right" thing to do rather than putting people down. Right angles are 90 degrees. That's how I remember it. It's not as easy as another hack but hey, it works.
Adjacent
Adjacent just means next to.
Ex. The house adjacent to us is blue.
This word is used to describe angles that are right next to each other.
These angles can be supplementary, complementary, congruent or neither. The only requirements to be called adjacent angles is to just be next to each other and share a line.
These are adjacent angles.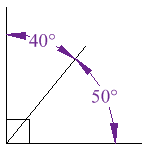 These are adjacent angles.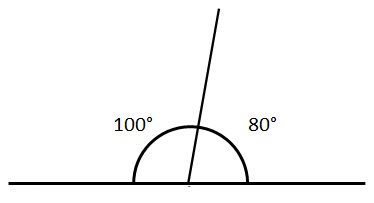 These are adjacent angles
These are adjacent angles.
Any angles can be adjacent as long as they share a side (like the blue-colored line in the image above) and be next to each other.
Parallel Lines, boi
This one's pretty much the popular guy in angle relationships. There are lots of angle relationships made when a transversal and parallel lines meet.
This is what parallel lines look like.
Line A and B are parallel lines. You can tell because of the two arrows on each line. These markings are commonly used to distinguish between parallel lines and non-parallel lines.
Parallel lines never intersect, they'll never touch. They never met. They're like me and my crush, going our own ways.
Sob.
But parallel lines never, ever intersect. Remember this. Lines go on forever and the lines will absolutely never touch unless the line, like, isn't straight and then it wouldn't be a line so no worries.
Oh, one thing you guys do not want to do is assume they are parallel. This is like assuming someone's gender. If you do assume, maybe they are parallel, but what if they aren't? What if they're off by just a few degrees but eventually intersect? You're screwed, that's what. Unless it's said in the diagram or in the instructions, don't assume because you'll make a fool out of yourself.